These are some side projects I've worked on over the years.
Skeeball K
[ GAME ]
[ '21 ]
[
Download
]
Skeeball K is a 3d skeeball game, written in Haxe, as a Christmas gift for my mom. Read more about it here.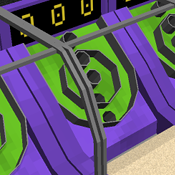 Connectaimes
[ GAME ]
[ '17 ]
[
Download
]
Connectaimes is a sci fi themed Connect 4 clone which I wrote as a birthday gift for a Connect 4 enthusiast friend.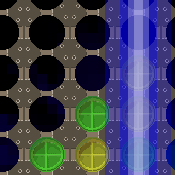 Caster
[ FRAMEWORK ]
[ '13-19 ]
[
Explore
]
Caster started as a simple extension of the Dragonfly Python speech recognition framework, meant to help me recover from carpal tunnel. Eventually I did recover (mostly through PT), but after I abandoned Caster, it took on a life of its own and its community is still active today. You can read about it in this article or see it in use in this video.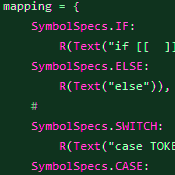 Micemen: Remix
[ GAME ]
[ '15 ]
[
Download
]
Micemen: Remix is a remake of the original DOS game Micemen. I wrote it as a Christmas present for my dad. He says that the difficulty is a little harder than the original.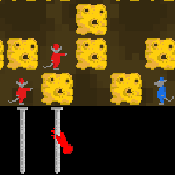 SaltBot
[ BROWSER EXTENSION ]
[ '14-15 ]
[
Discuss
]
SaltBot was a weekend project I used to experiment with genetic algorithms. It turned out to work moderately well, placing my SaltyBet account in the top 100 at the time. It was later mentioned in this academic paper.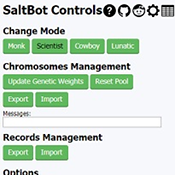 Kumoshi
[ GAME ]
[ '12-13 ]
An old friend and I attempted to make an MMORPG in 2012, with very limited funds and game dev expertise. Though Kumoshi never saw a release, the demo we cobbled together was much better than it had any right to be. You could walk around in 3d, place things from your inventory in the world, and talk to other players.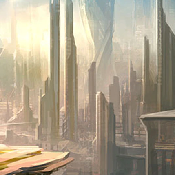 Dendrimere
[ GAME ]
[ '09 ]
Dendrimere was my first non- web programming experience, a project of passion in which I hoped to combine aspects of my favorite top down shooter games. It became a fully playable one level demo.